Hello everyone!
The other day, I was traveling on a motorcycle.
Due to the political situation, there were checkpoints at the entrances and exits of the city, so I chose the jungle road.
Although it is a rural road, I have to ride a motorcycle on the canal.
Somewhere in the jungle, I saw a tent beside a gutter.
Ducks were seen foraging in and out of the gutter.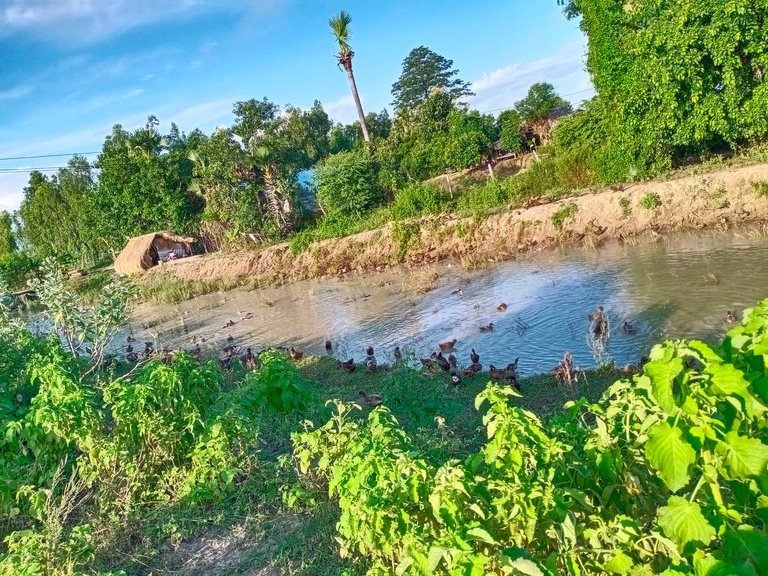 This is a cost-effective duck farm for land and ponds.
In order to reduce the cost capital, these duck farmers choose one of the canals in the Paddy field where there is water.
Due to the large area of grazing land in the jungle and the abundance of pests and natural foods, the cost of food for ducks is low.
Therefore, duck farmers have to live in the Paddy field.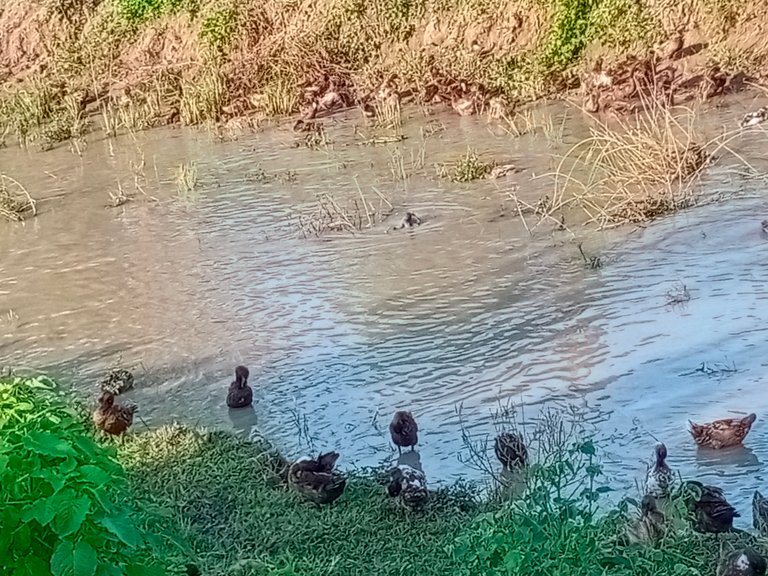 These duck farmers mainly get duck eggs for profit.
Eggs are mainly sold to bakeries.
A female ducks lay between 120 and 160 eggs.
These farmers sell the ducks only when the ducks can no longer lay eggs.
In our country, most people rarely buy, cook or eat turkey as a dish.
We have to buy and eat only duck barbecue in restaurants.
This is just a brief overview of the cost-effective livestock industry I came across while traveling.
Are you interested in raising ducks like this?
What do you think?
Thank you for everything.
Tin Aung Soe
[Burmese]
မင်္ဂလာပါ။
ဟိုတစ်နေ့က ကျွန်တော်သည် ဆိုင်ကယ်ဖြင့် ခရီးထွက်ခဲ့သည်။
နိုင်ငံရေးအခြေအနေ အရ မြို့အဝင်၊အထွက်များ၌ အကြမ်းဖက်စစ်တပ်မှ စစ်ဆေးရှာဖွေခြင်းများ ရှိသောကြောင့် ‌ကျွန်တော်သည် တောလမ်းခရီးကို ရွေးချယ်ခဲ့သည်။
တောလမ်းခရီး ဆိုပေမယ့် တူးမြောင်ဘောင်ပေါ်မှာ ဆိုင်ကယ်စီးရခြင်း ဖြစ်သည်။
တောထဲတစ်နေရာ ရေမြောင်းဘေး၌ တဲအိမ်တစ်လုံးကို တွေ့မြင်ခဲ့ရသည်။
ရေမြောင်းထဲနှင့် ဘေး၌ ဘဲများ အစာရှာနေကြသည်ကို တွေ့မြင်ခဲ့ရသည်။
ဤသည်မှာ မြေ‌နေရာ နှင့် ရေကန် အတွက် ကုန်ကျစရိတ်မရှိသော ဘဲမွေးမြူရေးလုပ်ငန်းတစ်ခု ဖြစ်သည်။
၎င်းဘဲမွေးမြူရေးသမားတို့သည် ကုန်ကျစရိတ် အရင်းအနှီး လျော့ကျစေရန် အတွက် တောထဲက ရေရှိရာ ရေမြောင်း၏ တစ်နေရာကို ရွေးချယ်၍ ဘဲမွေးမြူရေး လုပ်ကိုင်ကြခြင်း ဖြစ်သည်။
တောထဲ စားကျက်မြေနေရာ ကျယ်ဝန်းမှု နှင့် ပိုးမွှားနှင့်သဘာဝအစာ ပေါများမှုကြောင့် ဘဲစာစရိတ်လည်း အကုန်အကျ သက်သာပါသည်။
သို့ဖြစ်၍ ဘဲမွေးမြူရေးသမားတို့သည် တောထဲမှာတော့ နေထိုင်ရပါသည်။
ထိုဘဲမွေးမြူရေးသမားတို့သည် အကျိုးစီးပွားအတွက် ဘဲဥကို အဓိက ရယူကြပါသည်။
ဘဲဥကို မုန့်လုပ်ငန်းများသို့ အဓိက ရောင်းချကြရပါသည်။
ဘဲအမတစ်ကောင်သည် ဘဲဥ အလုံး ၁၂၀ မှ ၁၆၀ အတွင်း ဥနိုင်ကြသည်ဟု သိရသည်။
ထိုမွေးမြူရေးသမားတို့သည် ဘဲများကို မဥနိုင်တော့သည့်အခါမှသာ ဟင်းစားဘဲသား အဖြစ် ရောင်းချကြပါသည်။
ကျွန်တော်တို့ နိုင်ငံ၌ လူအများစုသည် ဘဲသားကို ဟင်းအဖြစ် ဝယ်ယူ၊ချက်ပြုတ်၊စားခြင်း ရှားပါးပါသည်။
စားသောက်ဆိုင်ကြီးများ၌ ဘဲကင် ကိုသာ ဝယ်ယူစားကြလေ့ ရှိကြသည်။
ဤသည်မှာ ကျွန်တော် ခရီးသွားရင်း ကြုံတွေ့ခဲ့ရသော စရိတ်လျော့ပါး ဘဲမွေးမြူရေးလုပ်ငန်း အကြောင်း အကျဉ်းမျှသာ ဖြစ်ပါသည်။
မိတ်ဆွေတို့ရော ဤသို့သော ဘဲမွေးမြူရေးကို စိတ်ဝင်စားကြပါသလား။
အဘယ်သို့ ယူဆကြပါသလဲ။
အရာအားလုံး အတွက် ကျေးဇူးတင်ပါသည်။
တင်အောင်စိုး