Hello friends.
Yesterday morning, I went to Tada-U town to buy medicine.
On one side of the road, I saw crows resting on dry acacia.
When I saw the birds, I wanted to take pictures.
Wouldn't I be able to post here if I took pictures of birds?
So, I parked my motorcycle in the distance, took out my phone, and took pictures of the crows.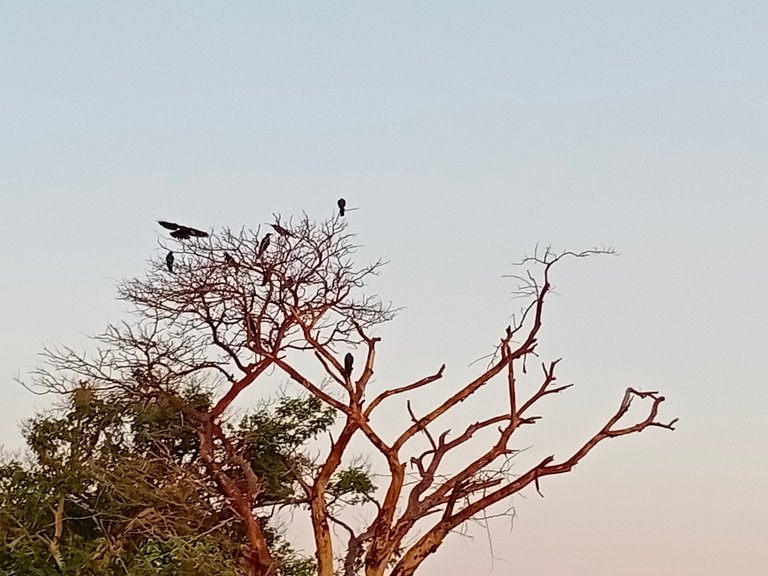 As I parked my bike, some crows flew out of the trees.
Some are still staying.
When I aim at the crows with my phone camera, some of the birds fly away.
Then there are the crows that return.
I had to take a picture of this situation and record it.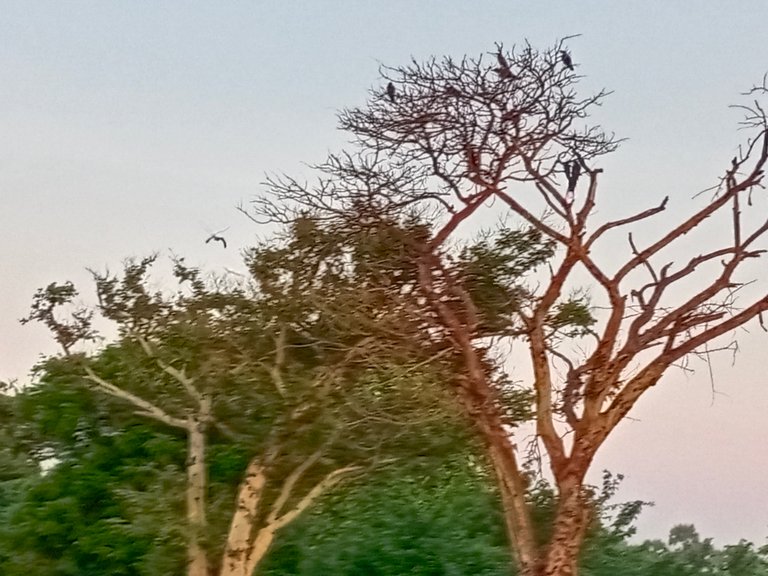 This is why I took pictures of crows on dried acacia.
May you be healthy, wealthy and happy, my friends!
Thank you for everything.
Tin Aung Soe
[Burmese]
မင်္ဂလာပါ မိတ်ဆွေတို့ရေ။
မနေ့က မနက်ခင်းမှာ ကျွန်တော်သည် ဆေးဝါး ဝယ်ယူရန် တံတားဦးမြို့ သို့ သွားခဲ့ပါတယ်။
လမ်းတစ်နေရာမှာ ထနောင်းပင်ခြောက်ပေါ်မှာ ကျီးငှက်တွေ နားခိုနေတာ မြင်ခဲ့ရပါတယ်။
ငှက်တွေ မြင်ရတော့ ဓာတ်ပုံ ရိုက်ယူချင်လာပါတယ်။
ငှက်ပုံတွေ ဓာတ်ပုံရိုက်ယူထားမှ ဒီမှာ Post တင်နိုင်မယ် မဟုတ်လား။
ဒါနဲ့ပဲ ခပ်လှမ်းလှမ်းတစ်နေရာမှာ ကျွန်တော် စီးလာသော ဆိုင်ကယ်ကို ရပ်နားကာ Phone လေးထုတ်ပြီး ကျီးငှက်တွေကို ဓာတ်ပုံရိုက်ယူခဲ့ပါတယ်။
ကျွန်တော် ဆိုင်ကယ်ရပ်နားလိုက်တော့ အချို့ ကျီးငှက်တွေက သစ်ခြောက်ပင်ပေါ်မှ ပျံပြေးကြပါတယ်။
အချို့က ဆက်လက် ခိုနားနေကြပါတယ်။
Phone camera ဖြင့် ကျီးငှက်တွေဆီ ချိန်ရွယ်လိုက်တော့လည်း အချို့ငှက်တွေက ထပျံပြေးကြပါတယ်။
ပြီးတော့ ပြန်လာနားကြတဲ့ ကျီးငှက်တွေလည်း ရှိပါတယ်။
ဒီအခြေအနေလေးကို ကျွန်တော်က ဓာတ်ပုံရိုက်ပြီး မှတ်တမ်းတင်လိုက်ရတာပါပဲ။
ဒါကတော့ ထနောင်းပင်ခြောက်ပေါ်က ကျီးငှက်တွေကို ကျွန်တော် ဓာတ်ပုံရိုက်ယူခဲ့တဲ့ အကြောင်းပါပဲ။
မိတ်ဆွေများ ကျန်းမာ၊ ချမ်းသာ၊ ပျော်ရွှင်ကြပါစေ။
အရာအားလုံး အတွက် ကျေးဇူးတင်ပါသည်။
တင်အောင်စိုး