Hello.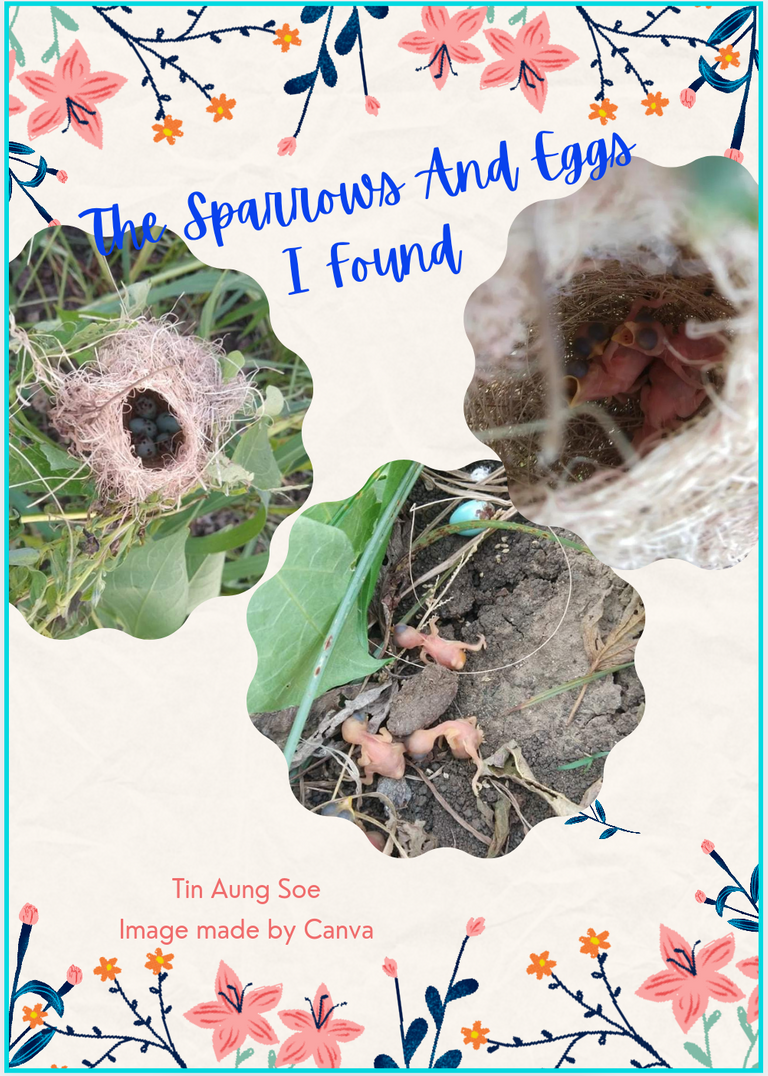 When I went to the fields about three days ago, I saw a bird's nest on a sesame branch.
I found Five sparrow eggs in the bird's nest.
So, I took a picture of that bird's nest.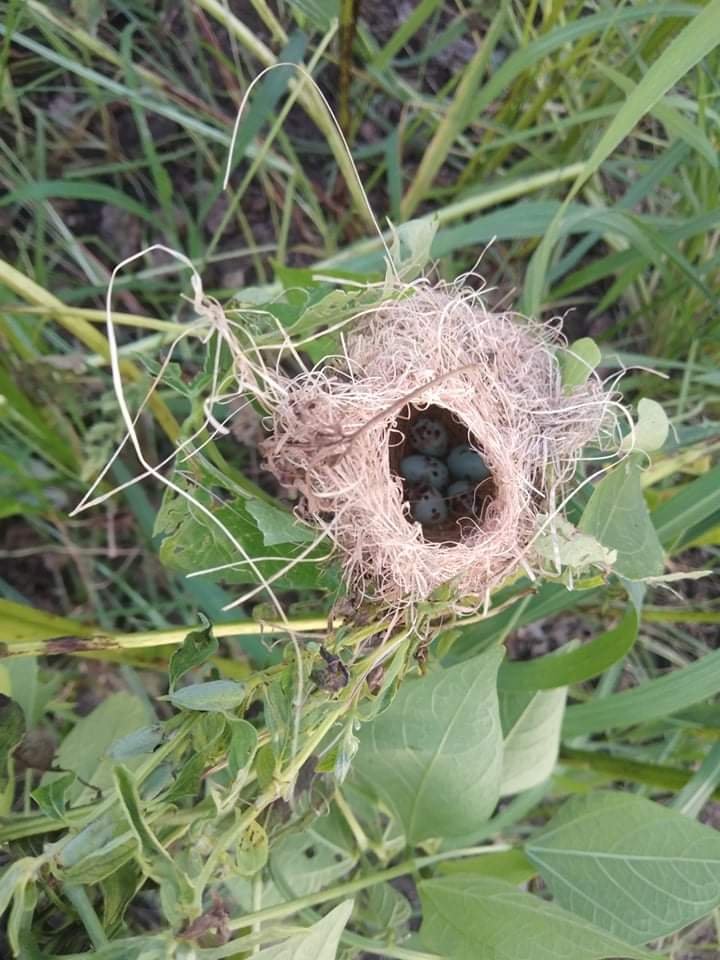 Yesterday, I went again to see if the sparrow eggs I had seen were hatching.
Oh Yes!
I saw the sparrow eggs hatch and the small sparrows fall to the ground.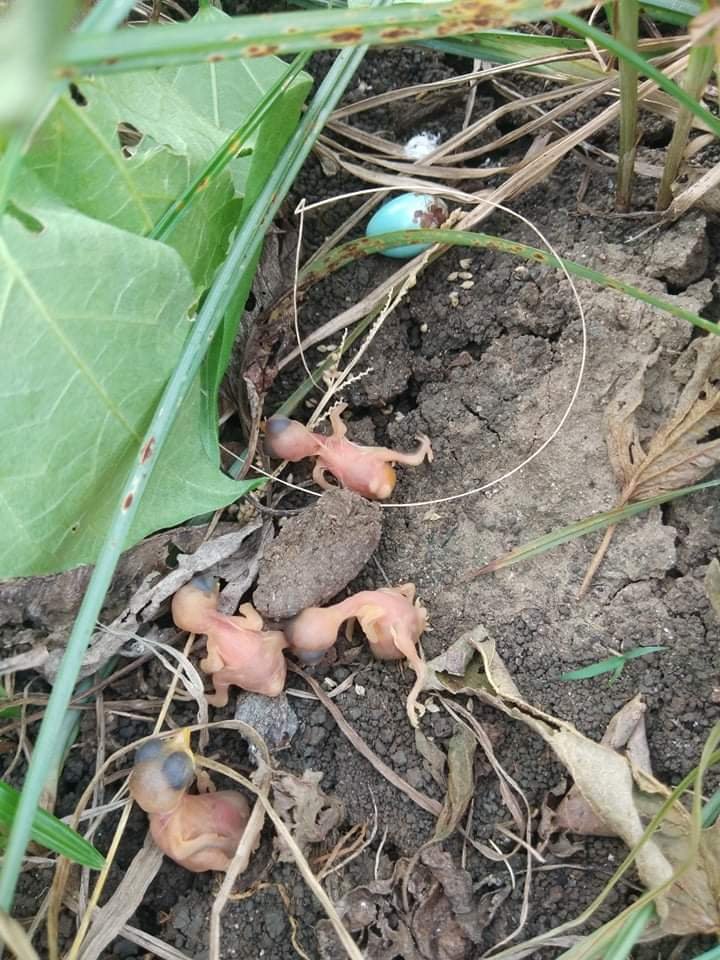 I saw four sparrows and an egg shell on the ground.
I thought that four eggs of them were hatched and a sparrow egg broke before it hatched.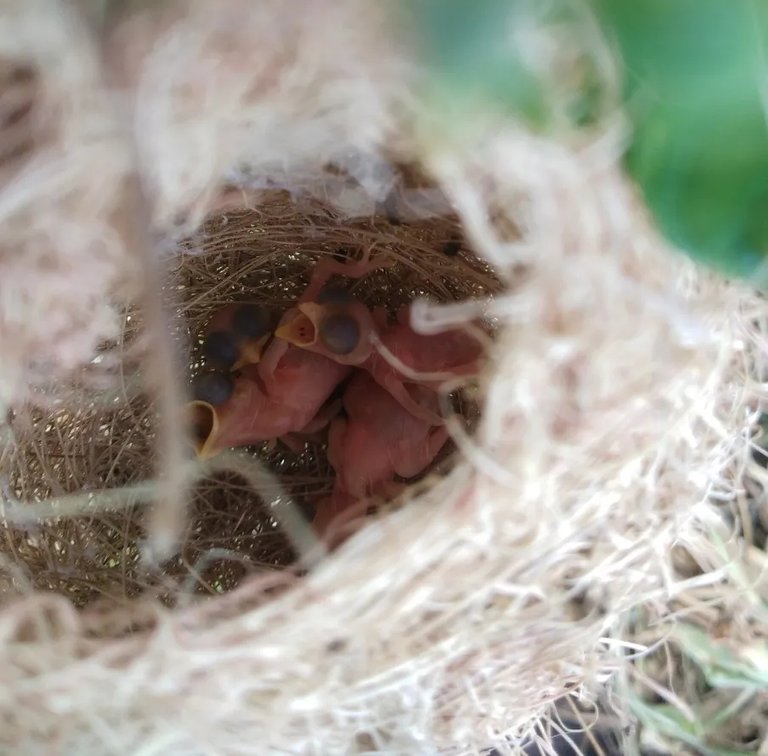 I put the sparrows back in the nest. And then I came back by praying for the small sparrows to live safely.
Tin Aung Soe
[Burmese]
မင်္ဂလာပါ။
ကျွန်တော်သည် လွန်ခဲ့သော သုံးရက်လောက်က တောထဲ သွားရောက်တဲ့အခါ အလေ့ကျပေါက်နေသော နှမ်းပင်ကိုင်း အပေါ်မှာ ငှက်သိုက် တစ်ခုကို မြင်တွေ့ခဲ့ရပါတယ်။
ငှက်သိုက် ထဲမှာ စာဥ ၅ လုံး တွေ့မြင်ခဲ့ရပါတယ်။
ဒါနဲ့ ကျွန်တော်လည်း ၎င်းစာငှက်သိုက်လေးကို ဓာတ်ပုံရိုက်ယူခဲ့ပါတယ်။
မနေ့ကတော့ ကျွန်တော် တွေ့မြင်ခဲ့ရသော စာဥလေးတွေ အကောင်ပေါက်နေပြီလားဟု ထပ်မံ သွားကြည့်ဖြစ်ခဲ့ပါတယ်။
အိုး! ဟုတ်ပါတယ်။
စာဥလေးတွေ အကောင်ပေါက်ပြီး စာပေါက်စလေးတွေ မြေကြီးပေါ် ကျနေတာ မြင်ခဲ့ရပါတယ်။
မြေကြီးပေါ်မှာ စာပေါက်လေး လေးကောင် နှင့် ဥခွံတစ်ခု ကို ကျွန်တော် မြင်တွေ့ခဲ့ရပါတယ်။
ဤသည်မှာ စာဥလေးလုံးသည် အကောင်ပေါက်ခဲ့ပြီး၊ စာဥတစ်လုံးသည် အကောင်မပေါက်ခင် ကျကွဲခဲ့သည် ဟု ကျွန်တော် ယူဆပါသည်။
ထိုနောက်တော့ ကျွန်တော်လည်း စာပေါက်စလေးတွေကို အသိုက်ထဲ ပြန်ထည့်ပေးကာ ပြန်လာခဲ့ပါသည်။
စာကလေးတွေ ဘေးရန်ကင်းကွာ ရှင်သန်နိုင်ကြပါစေ ဆုတောင်းရင်းနဲ့ပေါ့။
တင်အောင်စိုး