Two years back when 5 times Grammy nominated singer Akon announced a crypto-themed city, I didn't take it seriously.
But when this month Akon City awarded $6 billion contract to a US based engineering firm KE International, it drew my attention towards it.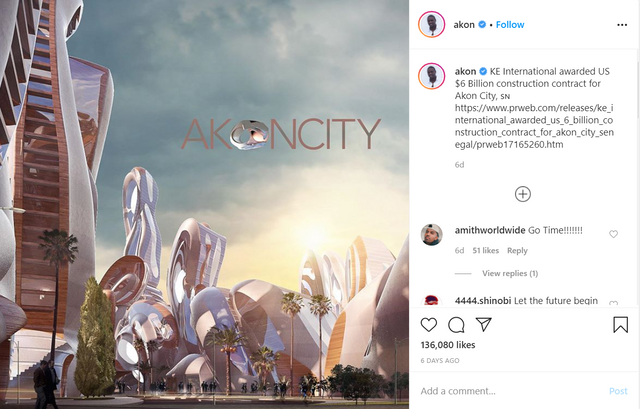 Akon has already founded a successful company in 2014 viz. Akon Lighting Africa, which is providing solar power solutions in 18 African countries today.
So Akon's vision to develop smart and sustainable communities led to build this Akon City. Akon city will be a smart and environmentally friendly city running totaly on solar power. The city is being planned on a 2000 acre coastal area near the capital city of Senegal. The best part is this city's monetary transactions will be done exclusively through Akoin cryptocurrency.
KE International is already engaged in designing and development of yet another Green city since 2014 viz. Mwale Medical and Technology City (MMTC). MMTC is being developed in Western Kenya in Africa and is expected to be completed by the year end.
Interestingly, MMTC has also partnered with Akoin platform for its blockchain based transactions.
Sub-Saharan Africa has about 54+ different currencies but lacks in banking infrastructure with 62% of Sub-Saharan Africans having no access to a bank account.
So AKOIN is being projected as One Africa, One Koin. And with its planned introduction in two of the only LEED certified Green cities of Africa, it seems to be on a good start. It may also set a great precedence for laying the foundation of futuristic crypto-themed cities across the world and help adoption of cryptocurrencies by bringing them into mainstream usage.
Okay, so why I'm talking about this Akon City project today which is due to be completed by 2030 (though its first phase will be completed by 2023)?
Well, to be honest, I've a tiny investment in Stellar Lumen (XLM) and was thinking to increase my exposure. Since AKOIN is based on Stellar protocol, will the success of these projects lead to a good appreciation in value for XLM?
That's my question to you for today. 😇
Thank you for being the part of this discussion!