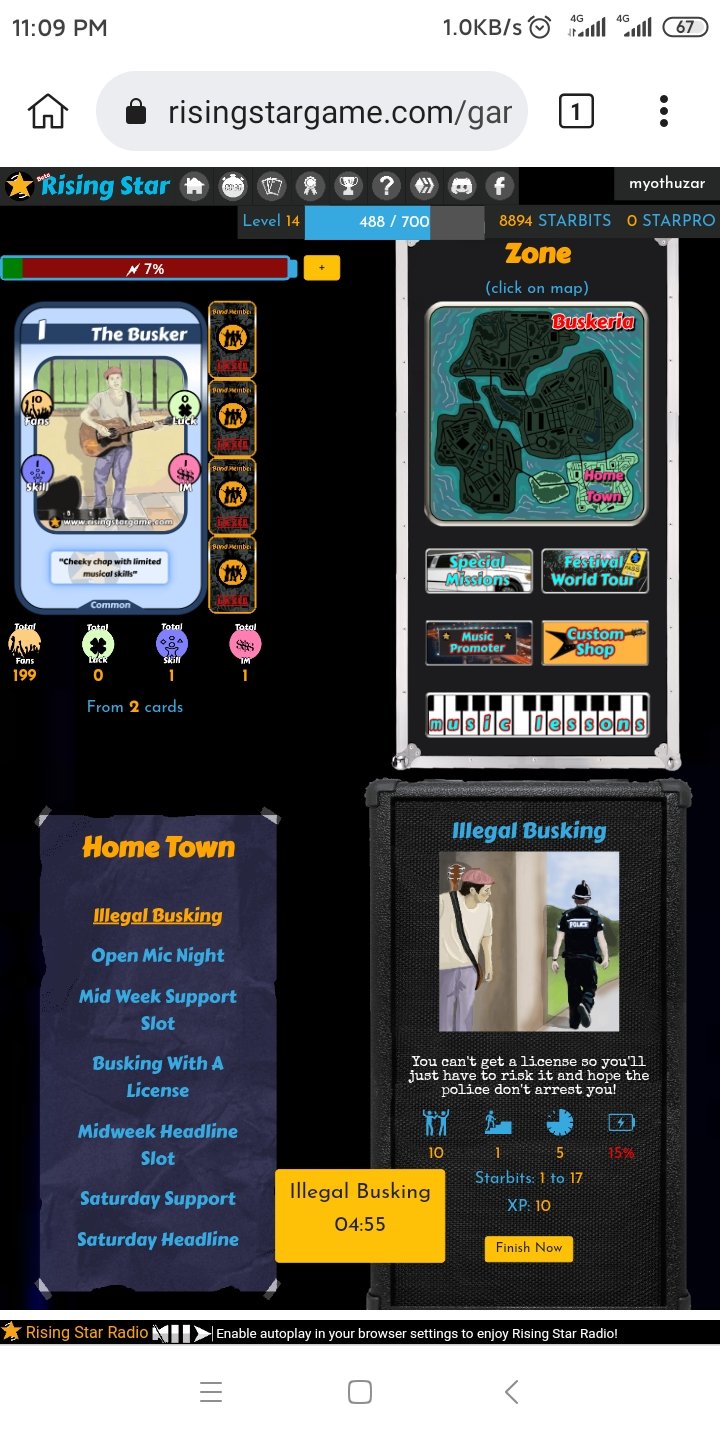 Today, I played rising star game. I have been playing this game for 13 days. My level and starbits are gradually increasing in the game. I am happy to see my improvement in the game.
Now, I reached level 14. I have 8670 credits,112 fans,1 skill and 1 im. I also have two cards. I did
Illegal busking mission, open mic night mission, mid week support slot mission and busking with a license mission. I did total 203 missions.
Nowadays, I try to buy cards. But I can not buy it, I face error in transaction. When I play rising star game, I played with wifi and internet data. I used two internet connection. I think that is why I face errors. I don't know how to solve it. Although I experienced error, I still play the game.
I will try to increase my level in the future. I am still trying and playing rising star game.
ဒီနေ့ ကျွန်မ rising star ဂိမ်းကို ကစားခဲ့ပါတယ်။ ဤဂိမ်းကို ကစားတာ ၁၃ရက်ကြာပါပြီ။ ကျွန်မရဲ့level နဲ့ starbits များလည်း ဂိမ်းထဲတွင်တဖြည်းဖြည်းတိုးပွားလာပါပြီ။ ဂိမ်းတွင် ကျွန်မရဲ့ တိုးတက်မှုကိုမြင်ရသည့်အတွက် ဝမ်းသာမိပါတယ်။
ယခု ကျွန်မ level 14 သို့ရောက်ရှိနေပြီဖြစ်ပါတယ်။ ကျွန်ုပ်တွင် starbits 8670၊ ပရိသတ် 112၊ ကျွမ်းကျင်မှု 1 ခုနှင့် im 1 ခုရှိပါတယ်။ ကျွန်မမှာ ကဒ်နှစ်ကဒ်လည်း ရှိတယ်။ ကျွန်မ Illegal busking mission, open mic night mission, mid week support slot mission နဲ့ busking with a license mission တို့ လုပ်ခဲ့ပါတယ်။ စုစုပေါင်း မစ်ရှင် 203 ခု လုပ်ပြီးခဲ့ပြီး ဖြစ်ပါတယ်။
အခုတစ်လော ကဒ်တွေဝယ်ဖို့ ကြိုးစားဖြစ်ပါတယ်။ဒါပေမယ့် ဝယ်လို့မရဘဲ errorတွေ ကြုံနေရတယ်။ rising star ဂိမ်းကို ကစားတဲ့အခါ wifi နဲ့ အင်တာနက်ဒေတာနဲ့ ရော ကစားပါတယ်။ အင်တာနက်လိုင်း နှစ်ခုသုံးမိပါတယ်။ အဲဒါကြောင့် error တွေ ကြုံရတယ်လို့ ထင်ပါတယ်။ . ဘယ်လိုဖြေရှင်းရမှန်းမသိပါဘူး။ဂိမ်းမှာ error တွေ ကြုံနေပေမယ့် ဆက်ဆော့နေတုန်းပါပဲ။
အနာဂတ်ကာလမှာ ကျွန်မရဲ့ အဆင့်ကို မြှင့်တင်ရန် ကြိုးစားသွားပါမှာပါ။ ကျွန်မက rising star ဂိမ်းကို ကြိုးစားကစားနေဆဲဖြစ်ပါတယ်။