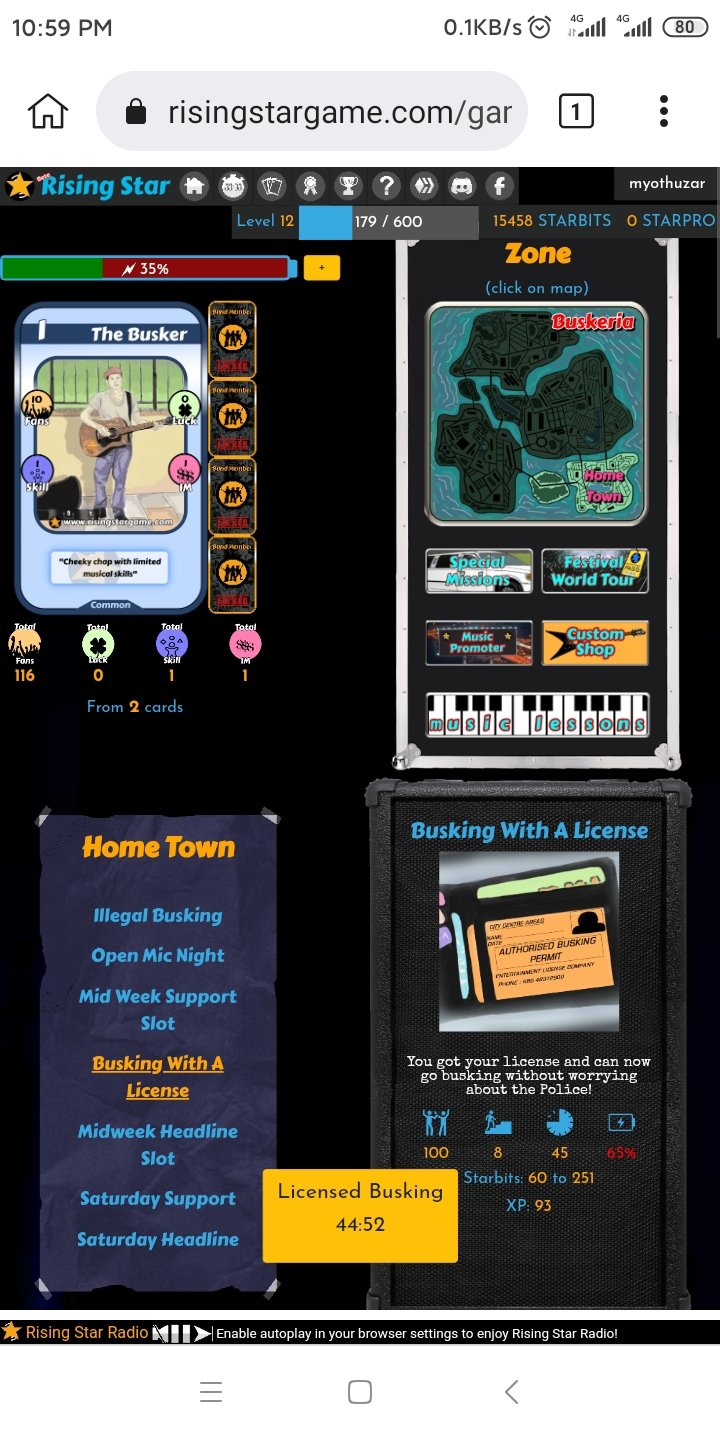 Today, I played rising star game. I have been playing this game for 10 days. My level and starbits are gradually increasing in the game. I am happy to see my improvement in the game.
Now, I reached level 11. I also did Illegal busking mission, open mic night mission, mid week support slot mission. Today, I can do one more mission than yesterday. The mission I can do today is busking with a license mission. Yesterday I can not do this mission because my energy and fans are low. Now, I can do this mission.
Now, I have 112 fans,2 luck,1 skill and 1 im. I did 137 total missions. My starbits are 4769 starbits. I also withdraw starbits 10000 from hive-engine to buy pizza box. I bought one pizza energy card. I try to buy one pizza box with my starbits. But I can not still see my pizza box. Next time, I try again. Similar result happened, and I don't know when will I get the pizza boxes that I bought.
I will try to increase my level in the future. I am still trying and playing rising star game.
ဒီနေ့ ကျွန်မ rising star ဂိမ်းကို ကစားခဲ့ပါတယ်။ ဤဂိမ်းကို ကစားတာ ၁၀ ရက်ကြာပါပြီ။ ကျွန်မရဲ့level နဲ့ starbits များလည်း ဂိမ်းထဲတွင်တဖြည်းဖြည်းတိုးပွားလာပါပြီ။ ဂိမ်းတွင် ကျွန်မရဲ့ တိုးတက်မှုကိုမြင်ရသည့်အတွက် ဝမ်းသာမိပါတယ်။
ယခု၊ ကျွန်မ level 11 သို့ရောက်ရှိသွားပါပြီ။ Illegal busking mission၊ mic night mission နဲ့ mid week support slot mission ကိုလည်း လုပ်ခဲ့ပါတယ်။ယနေ့ မနေ့ကထက် mission တစ်ခုထပ်လုပ်နိုင်ပါပြီ။ ဒီနေ့ ကျွန်မ လုပ်နိုင်တဲ့ missiin ကတော့ busking with a license mission ဖြစ်ပါတယ်။မနေ့က ကျွန်မရဲ့ energy နဲ့ fans တွေက နည်းနေတာကြောင့် ဒီmission ကို ကျွန်မ မလုပ်နိုင်ဘူး။ အခု ဒီmission ကို ကျွန်မ လုပ်နိုင်ခဲ့ပါတယ်။
ယခု ကျွန်မမှာ fans 112 ၊ luck 2 ခု၊ skill 1 ခုနှင့် 1 im တို့ ဖြစ်ပါတယ်။ကျွန်မ စုစုပေါင်း မစ်ရှင်ပေါင်း 137 ခုကို ပြုလုပ်ခဲ့ပြီးပါပြီ။ ကျွန်မရဲ့ starbits များကတော့ 4769 satarbits ဖြစ်ပါတယ်။ pizza box တစ်ခု ဝယ်ရန် hive-engine မှ starbits 10000 ကိုလည်း ထုတ်လိုက်ပါတယ်။ one pizza energy card တစ်ခု ဝယ်ဖြစ်ပါတယ်။ ကျွန်မရဲ့ starbits နဲ့pizza box တစ်လုံးကို ဝယ်ရန်ကြိုးစားပါသေးတယ်။ သို့သော် ကျွန်မရဲ့ pizza boxကို မတွေ့ရသေးပါ။ အတန်ကြာတော့ ထပ်စမ်းဝယ်ကြည့်ပါတယ်။ အလားတူ ရလဒ်မျိုး ကြုံခဲ့ရပြီး ဝယ်ထားတဲ့ pizza box တွေ ဘယ်တော့ ရနိုင်မလဲ မသိပါဘူး။
အနာဂတ်ကာလမှာ ကျွန်မရဲ့ အဆင့်ကို မြှင့်တင်ရန် ကြိုးစားသွားပါမှာပါ။ ကျွန်မက rising star ဂိမ်းကို ကြိုးစားကစားနေဆဲဖြစ်ပါတယ်။