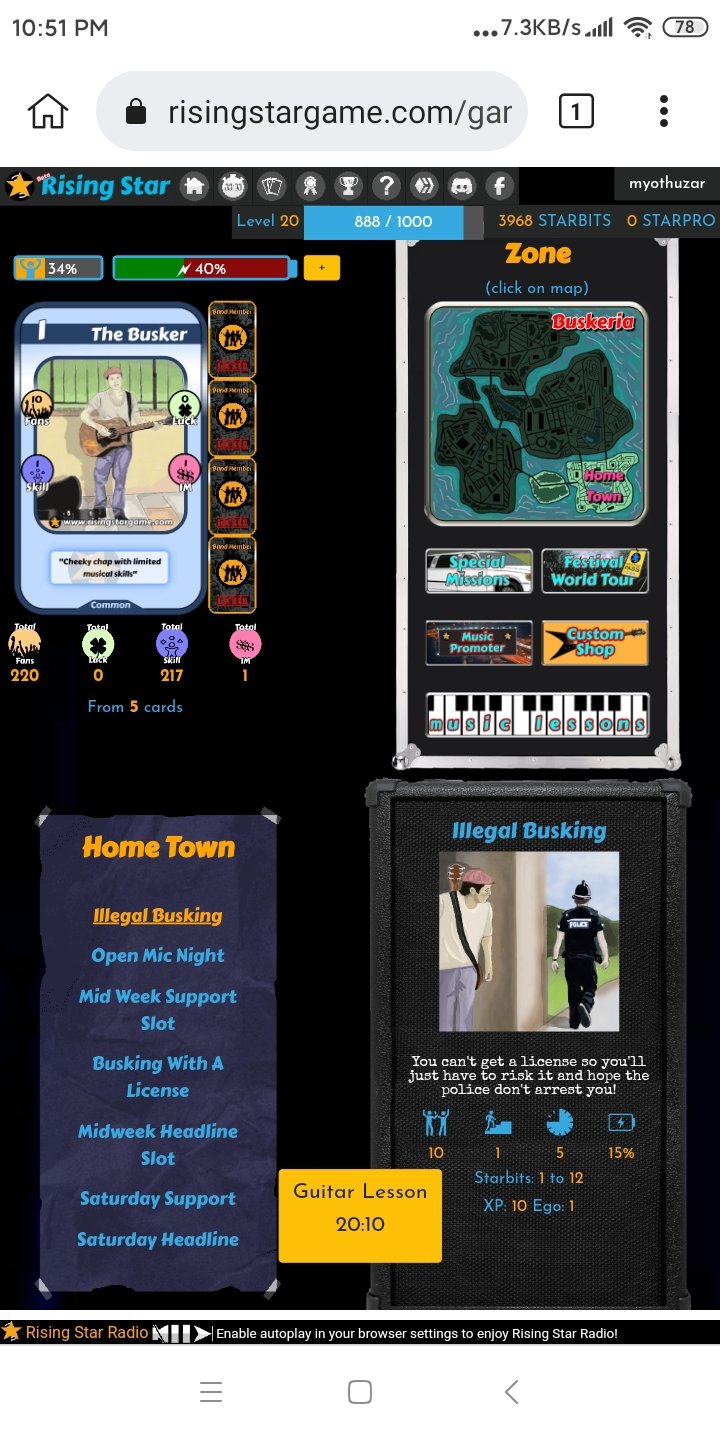 Today, I played rising star game. I have been playing this game for 18days. My level and starbits are gradually increasing in the game. I am happy to see my improvement in the game.
.
Now,I reached level 20.With the withdrawal of 3000 starbits, only 3968 starbits remain in the game.I also have 220 fans ,0 luck,217 skill and 1im. Today,I focused more on doing home town mission.So,ego are increasing in the game.Now,ego is 34%.To reduce ego,I did musion lessons again.
I did total 299 missions in the game.I did 113 Illegal busking missions, 85 open mic night missions, 59 mid week support slot missions,
12 busking with a license mission,2 midweek headline slot mission,13 basic singing lessons and 14 guitar lessons.
I will try to increase my level in the future. I am still trying ,and playing rising star game.
ဒီနေ့ ကျွန်မ rising star ဂိမ်းကို ကစားခဲ့ပါတယ်။ ဤဂိမ်းကို ကစားတာ ၁၈ ရက်ကြာပါပြီ။ ကျွန်မရဲ့level နဲ့ starbits များလည်း ဂိမ်းထဲတွင်တဖြည်းဖြည်းတိုးပွားလာပါပြီ။ ဂိမ်းတွင် ကျွန်မရဲ့ တိုးတက်မှုကိုမြင်ရသည့်အတွက် ဝမ်းသာမိပါတယ်။
ယခု ကျွန်မ level 20 သို့ရောက်ရှိခဲ့ပါပြီ။ 3000 starbits ကို withdraw လုပ်လိုက်တာကြောင့် 3968 starbits ပဲ ဂိမ်းထဲမှာ ကျန်ပါတော့တယ်။ ကျွန်ုပ်တွင် fans 220၊0 luck၊217 skill နှင့် 1im ရှိပါတယ်။ ဒီနေ့တော့ home town mission ကို ပိုအာရုံစိုက်လုပ်ခဲ့တာကြောင့် game မှာ egoတွေ များလာပါတယ်။ အခု egoက 34% ပါ။ egoကို လျှော့ချဖို့ ဂီတ သင်ခန်းစာတွေ ထပ်လုပ်ရပါတယ်။
ဂိမ်းထဲမှာ စုစုပေါင်း မစ်ရှင် ၂၉၉ ခု လုပ်ခဲ့ပါတယ်။ ကျွန်မ 113 Illegal busking missions, 85 open mic night missions, 59 mid week support slot missions,12 busking with a license mission,2 midweek headline slot mission,13 basic singing lessons နဲ့ 14 guitar lessons တို့ ပြုလုပ်ခဲ့ပါတယ်။
အနာဂတ်ကာလမှာ ကျွန်မရဲ့ အဆင့်ကို မြှင့်တင်ရန် ကြိုးစားသွားပါမှာပါ။ ကျွန်မက rising star ဂိမ်းကို ကြိုးစားကစားနေဆဲဖြစ်ပါတယ်။