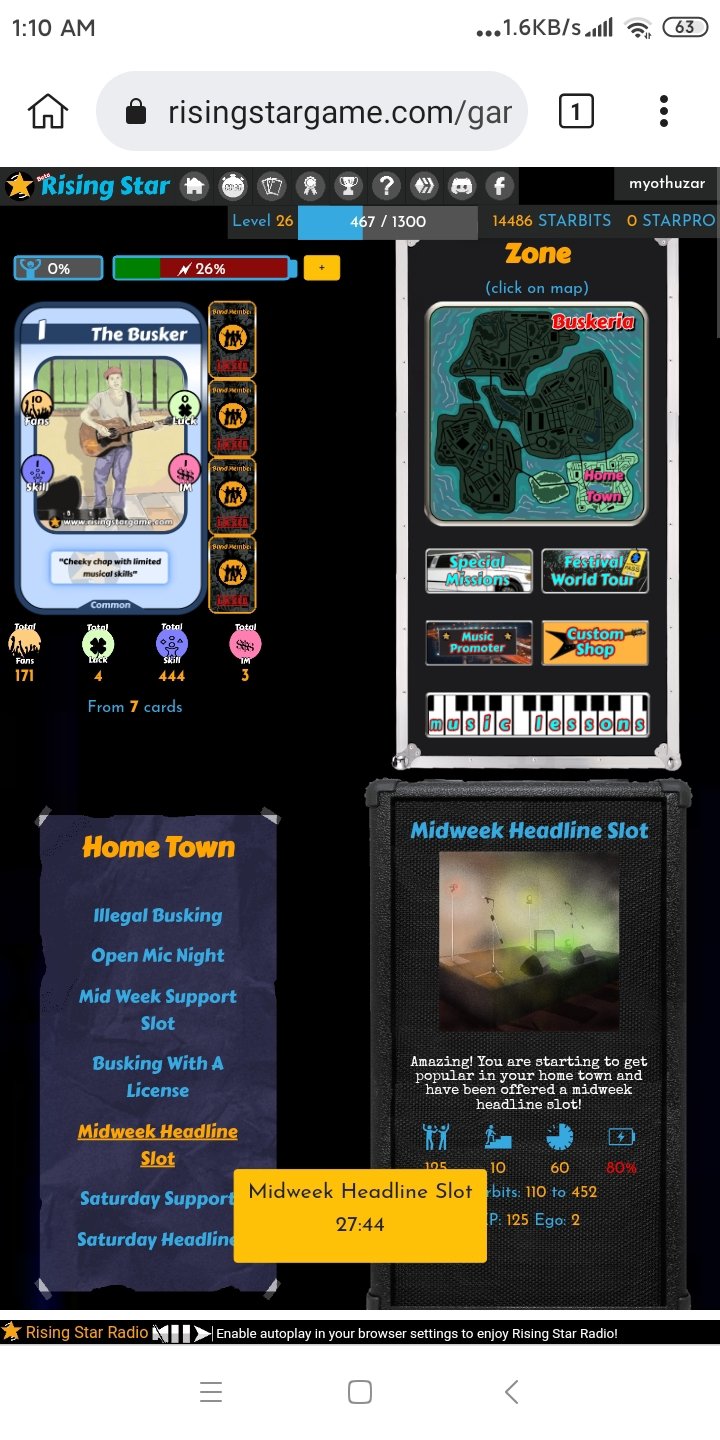 Today, I played rising star game. I have been playing this game for 24 days. My level and starbits are gradually increasing in the game. I am happy to see my improvement in the game.
Today, I reached level 26. Now, I have 14486 starbits. I will buy one people card or one vehicle card, when I get starbits 20000 in the game. I also have 171 fans, 4 luck, 444 skill and 3 im. Now I have seven cards. To increase fans, I need to buy a card. Like I said in the above sentence, I will buy the card when I have starbits 20000.
I still do Illegal busking mission, open mic night mission, mid week support slot mission, busking with a license mission, midweek headline slot mission, Saturday support mission, basic singing lessons and guitar lessons. I want to do Saturday headline mission, but I can not do it because I don't have enough fans. The total missions I did in the game until now is 393. Yesterday, my total missions are 377 missions. So, I did 16 missions today.
I will try to increase my level in the future. I am still trying, and playing rising star game.
ဒီနေ့ ကျွန်မ rising star ဂိမ်းကို ကစားခဲ့ပါတယ်။ ဤဂိမ်းကို ကစားတာ ၂၄ရက် ရှိပါပြီ။ ကျွန်မရဲ့level နဲ့ starbits များလည်း ဂိမ်းထဲတွင်တဖြည်းဖြည်းတိုးပွားလာပါပြီ။ ဂိမ်းတွင် ကျွန်မရဲ့ တိုးတက်မှုကိုမြင်ရသည့်အတွက် ဝမ်းသာမိပါတယ်။
ယနေ့၊ ကျွန်မ level 26 သို့ရောက်ရှိနေပါပြီ။ ယခု ကျွန်မမှာ 14486 starbits ရှိပါတယ်။ ဂိမ်းမှာ starbits 20000 ရရှိသောအခါတွင် people card သို့မဟုတ် vehicle card ကို ဝယ်ပါမယ်။ ကျွန်တော့်မှာ fans 171 ယောက်၊ luck 4 ခု ၊ 444 skill နဲ့ 3 im ရှိပါတယ် ။ အခု ကျွန်တော့်မှာ ကဒ် ခုနစ်ကဒ်ရှိပါတယ်။ fans တွေ တိုးလာဖို့အတွက် ကဒ်တစ်ခုဝယ်ဖို့ လိုပါတယ်။ အထက်ဝါကျမှာ ပြောခဲ့သလိုပဲ starbits 20000 ရတဲ့ အခါကျရင် ကဒ် ဝယ်ပါမယ်။
ကျွန်မ Illegal busking missions, open mic night missions, mid week support slot mission, busking with a license mission, midweek headline slot mission, saturday support mission, basic singing lessons and guitar lessons တွေကို လုပ်နေဆဲပါပဲ။ ကျွန်မ headline mission လုပ်ချင်ပေမယ့်၊ ကျွန်မမှာ fans လုံလောက်မှု မရှိလို့ မလုပ်နိုင်သေးပါဘူး။ အခုအချိန်အထိ ဂိမ်းထဲမှာ ကျွန်မ လုပ်ခဲ့တဲ့ စုစုပေါင်းmission က 393 ခုပါ။ မနေ့က ကျွန်မရဲ့ missions စုစုပေါင်းက 377 ခုပါ ။ ဒါကြောင့် ဒီနေ့ မစ်ရှင် ၁၆ ခု လုပ်ခဲ့တယ် ဆိုတာ သိရပါတယ်။
အနာဂတ်ကာလမှာ ကျွန်မရဲ့ အဆင့်ကို မြှင့်တင်ရန် ကြိုးစားသွားပါမှာပါ။ ကျွန်မက rising star ဂိမ်းကို ကြိုးစားကစားနေဆဲဖြစ်ပါတယ်။