Dear friends,
Starting as an illegal busker for some time with a few fans and often, chased by the police for illegal street performance, a lad who is passionate on becoming a music star was on his way to his dream. Now, he's got a music band with a few members and his fans have become bigger and bigger. Recently, he was just interviewed by the local radio station from the Local Gig Circuit area outside his home town. And, now, he is ardent for more musical performance missions.
Yes, it is true that one can become a music star or celebrity without knowing how to play a guitar. First, I thought, to play the Rising Star game, I need to know how to play a musical instrument or know how to sing at least. Only when I started playing it, I realized I don't need to. And, Rising Star is a fun game in which one can listen to radio music while playing the game. And I love the fact that I can collect musical instruments I love and recruit cool musicians.
Currently, I have 363 fans, 276 luck, 1585 skill, 10 IM with 614 Ego performing 'Midweek Headline Slot' mission. I am expecting to get to level 30 to do 'Shopping Mall' mission for which I will need more fans - 750 to be exact, for sure. I will try to recruit more members (buy people card) in the mean while and am expecting for the mission. Thank you for your support.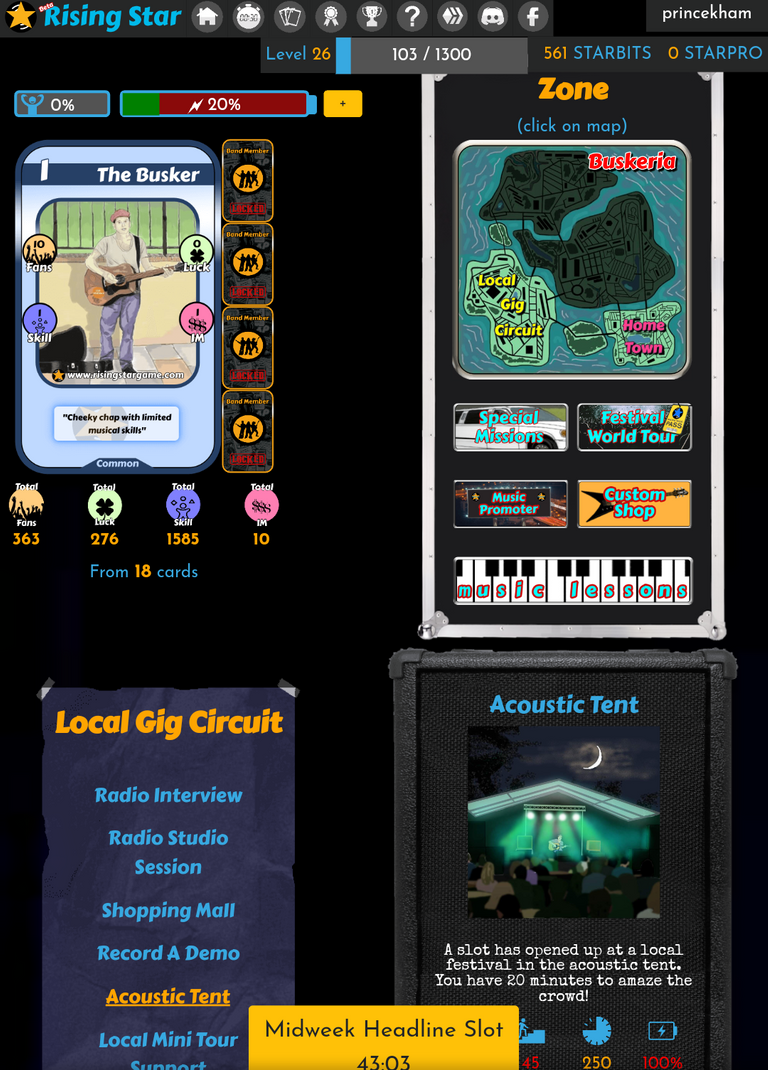 အားလုံးပဲ မင်္ဂလာပါ။
လမ်းပေါ်မှာ ဂီတာတီးပြီး ဖျော်ဖြေတဲ့ သူအနေနဲ့ စခဲ့တယ်။ တစ်ခါတစ်လေ ကံမကောင်းရင် ရဲ လိုက်ဖမ်းလို့ ပြေးရတာလဲရှိတယ်။ ဒီလိုနဲ့ အောင်မြင်တဲ့ ဂီတသမား ဖြစ်ချင်ခဲ့တဲ့ လူငယ်လေး တစ်ဦးဟာ သူ့ဖြစ်ချင်တဲ့ အိမ်မက် လမ်းကြောင်းပေါ်ကို တဖြည်းဖြည်းနဲ့တော့ ရောက်လာခဲ့ပါပြီ။ သူ့ရဲ့ ဖျော်ဖြေမှုတွေဟာ လူသိများလာပြီးတော့ မကြာသေးမှီကပဲ 'Local Gig Circuit' မှာရေဒီယို အင်တာဗျူးတစ်ခု လုပ်နိုင်ခဲ့ပါပြီ။
ဟုတ်ပါတယ်။ သီချင်းမဆိုတတ်၊ ဂီတာ မတီးတတ်ပဲ နဲ့ music star ဒါမှမဟုတ် ဆယ်လီ တစ်ယောက်ဖြစ်နိုင်ပါတယ်။ အစက ဒီ Rising Star game ကို ဆော့ဖို့ ဂီတာတီးတတ်ရမယ်၊ သီချင်းဆိုတတ်ရမယ် စသည်ဖြင့် ထင်ခဲ့တာပါ။ ဒီဂိမ်းကို စဆော့တဲ့ အခါမှ သီချင်းမဆိုတတ် ဂီတာမတီးတတ် ဆော့လို့ရတယ်ဆိုတာ သိခဲ့ရပါတယ်။ ဂိမ်းဆော့ နေတဲ့အချိန် သီချင်းနားထောင်နိုင်တာရယ်၊ ကိုယ်နှစ်သက်တဲ့ တူရိယာ လေးတွေ ဝယ်လို့ရတာနဲ့ ကိုယ်သဘောကျတဲ့ အဆိုတော်ကပ်လေးတွေကို ဝယ်သိမ်းထားလို့ရတယ်ဆိုတဲ့ အချက်လေးတွေကို သဘောကျမိပါတယ်။
အခု ချိန်မှာတော့ ကျွန်တော့်ဆီမှာ ပရိတ်သတ် ၃၆၃ ယောက်၊ ကံကောင်းမှု ၂၇၆၊ ကျွမ်းကျင်မှု ၁၅၈၅ နဲ့ IM ၁၀ ရှိနေပါပြီ။ Ego ကတော့ ၆၁၄ ပါ။ ကျွန်တော် level 30 မှ ဆော့လို့ရတဲ့ 'Shopping Mall' မစ်ရှင်ကို မကြာခင်ဆော့ကစားနိုင်ဖို့ မျှော်လင့်ပါတယ်။ ပရိတ်သတ်လဲ ပိုလိုမှာမို့ ဒီကြားထဲမှာ people card ဝယ်ထားနိုင်ဖို့ မျှော်လင့်ပါတယ်။ အားလုံးကို ကျေးဇူးတင်ပါတယ်။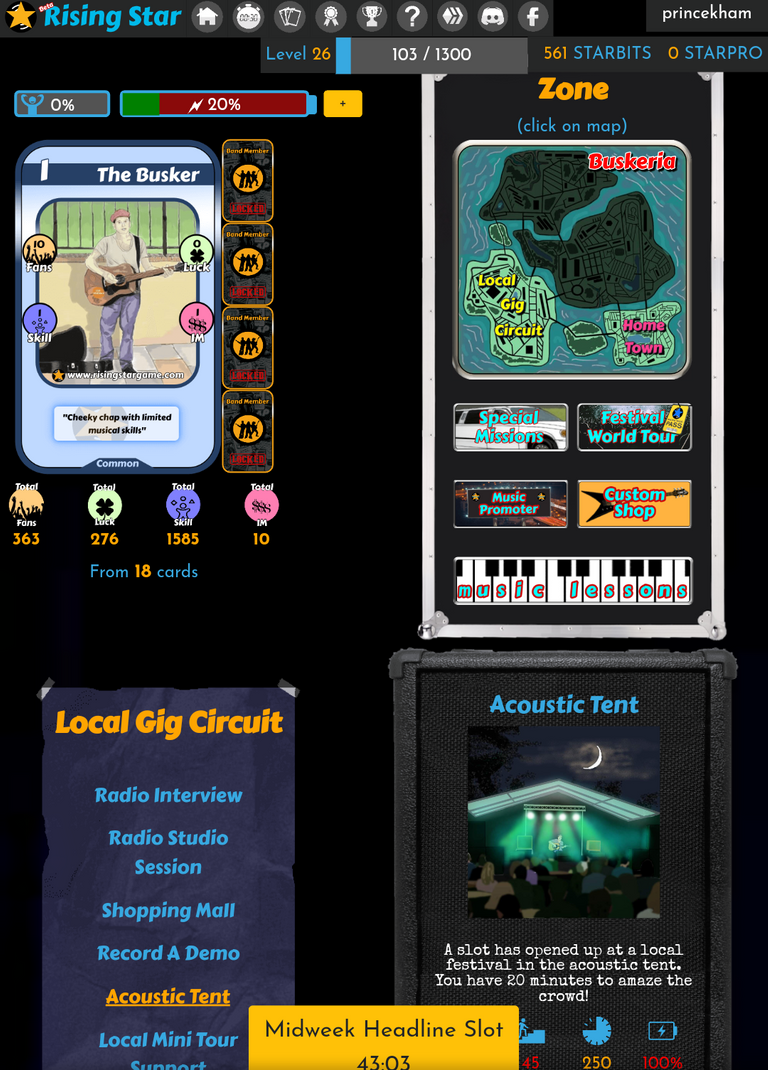 @princekham
17th May 2022
Myanmar