Hello friends.
Let me share some of my Splinterlands Battle ideas today.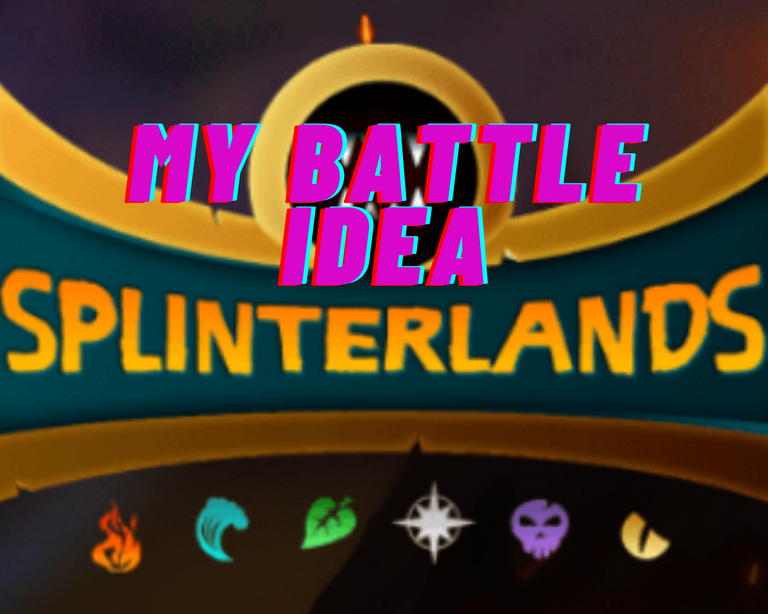 For me today, Splinterlands' Daily Quest is Fire Quest.
In the final match of Fire Quest Complete, I must fight as a team with Mana cap 24.
First of all, I chose Fire Summoner PYRE because it is a Fire Quest.
I chose PYRE Summoner because I want to speed up the Monster Team.
The purpose of the Monster Team is to increase the speed because I seem that the enemy will choose Water Summoner.
According to my Battle Experience, Water Summoner Alric Stormbringer is used in many battles with Mana cap 22 - 28.
Alric Stormbringer adds +1 to Magic Attack Moster, and Magic Attack Moster has a good attack speed to damage Health.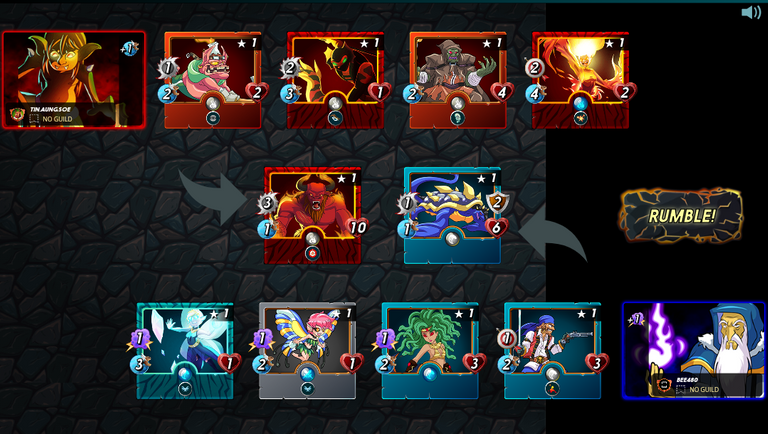 The second, I selected Monster Team with 1. CHARLOK MINOTAUR, 2. Kobold Miner, 3. Serpentine Spy, 4. Goblin Sharman and 5. Fire Elemental.
About my choice of above Monster Team are below columns.
Monsters
Reasons Why I Like or Choose them
CHARLOK MINOTAUR
It features Malee Attack 3, Speed 1, Health 10 and Ability True Strike. I like the attack power of Malee Attack 3 and True Strike ability. But, Speed 1 is less. Therefore, Summoner has chosen the PYRE that fills Speed 1. Health 10 aims to withstand multiple Enemy Magic Attacks.
KOBOLD MINER
It features Malee Attack 1, Speed 2, Health 2 and Ability Sneak. Although it is Malee Attack, it has Sneak Abilty, so I like to attack the last monster of the Enemy team.
SERPENTINE SPY
It includes Malee Attack 3, Speed 2, Health 1 and Ability Opportunity. It only has Health 1, but I like to attack with good speed and at least Health Enemy monster.
GOBLIN SHARMAN
It features Speed 2, Health 4 and Ability Weaken. It has no fighting ability, but its Weaken ability to reduce the health of enemy monsters is very useful.
FIRE ELEMENTAL
It includes Range Attack 2, Speed 4, Health 2 and Ability Blast. In Fire Elemental, I really like Speed 4 and Blast Ability.
I prefer Blast Ability to damage the attacking enemy monster and the monster next to it.
These are just some of my favorite tips and tricks for Fire Summoner.
You can watch this battle on below Share Links.
https://splinterlands.com?p=battle&id=sl_8a59baf84e8f8a857d14cd1d143b42a2&ref=tin.aung.soe
Have you watched the Battle of Fire Summoner PYRE & Water Summoner Alric Stormbringer above?
Do you accept that my predictions are correct?
What do you think?
Thank you for everything.
Tin Aung Soe
[Burmese]
မင်္ဂလာပါ မိတ်ဆွေတို့ရေ။
ဒီနေ့ ကျွန်တော်၏ Splinterlands Battle အယူအဆအချို့ကို မျှဝေပေးပါရစေ။
ယနေ့ ကျွန်တော့်အတွက် Splinterlands ၏ Daily Quest မှာ Fire Quest ဖြစ်ပါသည်။
Fire Quest Complete ဖြစ်ခဲ့သော နောက်ဆုံးပွဲစဉ်မှာ Mana cap 24 ဖြင့် Team ဖွဲ့ကာ တိုက်ခိုက်ရပါမည်။
ပထမဆုံး ကျွန်တော်သည် Fire Quest ဖြစ်သောကြောင့် Fire Summoner PYRE ကို ရွေးချယ်ခဲ့ပါသည်။
PYRE Summoner ကို ရွေးချယ်ရခြင်း အကြောင်းမှာ Monster Team ကို Speed မြှင့်တင်ပေးချင်သောကြောင့် ဖြစ်ပါသည်။
Monster Team ကို Speed မြှင့်တင်ပေးချင်သော ရည်ရွယ်ချက်မှာ တစ်ဖက်က Enemy သည် Water Summoner ရွေးချယ်မည် ထင်သောကြောင့် ဖြစ်သည်။
ကျွန်တော်၏ Battle Experience အရ Mana cap 22 - 28 ရသော Battle များ၌ Water Summoner Alric Stormbringer ကို အသုံးပြုကြသည်ကို သိရှိရပါသည်။
Alric Stormbringer သည် Magic Attack Moster များကို +1 ဖြည့်ပေးပြီး Magic Attack Moster များသည် Health ကို အဓိက တိုက်ခိုက်သော Speed ကောင်းကြပါသည်။
ဒုတိယအဆင့် Monster Team မှာတော့ 1. CHARLOK MINOTAUR , 2. Kobold Miner , 3. Serpentine Spy , 4. Goblin Sharman and 5. Fire Elemental တို့ကို ရွေးချယ်ခဲ့ပါတယ်။
အထက်ပါ Monster Team ကို ရွေးချယ်ရခြင်း အကြောင်းမှာ
CHARLOK MINOTAUR သည် Malee Attack 3 , Speed 1 , Health 10 and Ability True Strike ပါရှိပါသည်။
True Strike ability သည် Enemy ကို တိုက်ခိုက်ရလျှင် ပစ်မှတ်မလွဲခြင်း၊ Malee Attack 3 ၏ တိုက်ခိုက်နိုင်စွမ်း တို့ကို ကျွန်တော် ကြိုက်ပါသည်။
သို့သော် Speed 1 သည် နည်းပါးလှသည်။ ထို့ကြောင့် Summoner မှာ Speed 1 ဖြည့်ပေးသော PYRE ကို ရွေးထားခြင်း ဖြစ်သည်။
Health 10 ကိုတော့ Enemy ၏ Magic Attack ကို အကြိမ်များများ ခံနိုင်ရည် ရှိစေရန် ရည်ရွယ်ပါသည်။

Kobold Miner သည် Malee Attack 1, Speed 2 , Health 2 and Ability Sneak ပါရှိပါသည်။
Malee Attack ဖြစ်သော်လည်း Sneak abilty ပါရှိသောကြောင့် Enemy team ၏ နောက်ဆုံး monster ကို တိုက်ခိုက်ခြင်းကို ကျွန်တော် သဘောကျပါသည်။

Serpentine Spy သည် Malee Attack 3 , Speed 2 , Health 1 and Ability Opportunity ပါရှိပါသည်။
၎င်းသည် Health 1 သာ ပါရှိသော်လည်း။Speed ကောင်းခြင်း နှင့် Health အနည်းဆုံး Enemy monster ကို ရွေးချယ်ပြီး တိုက်ခိုက်ခြင်းကို ကျွန်တော် နှစ်သက်ပါသည်။

Goblin Sharman သည် Speed 2 , Health 4 and Ability Weaken ပါရှိပါသည်။
၎င်း၌ တိုက်ခိုက်ရေးစွမ်းရည် မရှိသော်လည်း Enemy monster များ၏ Health ကို လျှော့ချပစ်နိုင်သော Weaken Ability သည် များစွာ အသုံးဝင်ပါသည်။

Fire Elemental သည် Range Attack 2 , Speed 4 , Health 2 and Ability Blast ပါရှိပါသည်။
Fire Elemental မှာ Speed 4 and Blast Ability ကို ကျွန်တော် ကြိုက်နှစ်သက်ခြင်း ဖြစ်သည်။
Blast Ability သည် တိုက်ခိုက်ခံရသော Enemy monster နှင့် ၎င်းနဲ့ ကပ်လျက်ရှိသော Monster ကိုပါ Damage ဖြစ်စေခြင်းကို ကျွန်တော် ပို‌သဘောကျမိပါသည်။
အထက်ပါတို့မှာ Fire Summoner အတွက် ကျွန်တော်၏ အကြိုက်နှင့်အယူအဆများသာ ဖြစ်ပါသည်။
၎င်း Battle ကို Share Links ၌ ကြည့်ရှုနိုင်ပါသည်။
https://splinterlands.com?p=battle&id=sl_8a59baf84e8f8a857d14cd1d143b42a2&ref=tin.aung.soe
ကဲ Fire Summoner PYRE & Water Summoner Alric Stormbringer တို့၏ Battle ကို အပေါ်မှာ ကြည့်ပြီးကြပြီလား။
ကျွန်တော်၏ ခန့်မှန်းချက် အယူအဆများ မှန်ကန်တယ်ဟု လက်ခံပါသလား။
မိတ်ဆွေတို့ရော ဘယ်လိုသဘောရကြပါလဲ။
အရာအားလုံး အတွက် ကျေးဇူးတင်ပါသည်။
တင်အောင်စိုး