Hello.
Yesterday, I wrote a post
on what to do with LEO 1000.
I asked for advice on what to do.
Today, I made a decision.
As a result of this decision, LEO 1000 was divided into 200 units and Sell Orders were opened at 0.66, 0.67, 0.68, 0.69 and 0.70 HIVE prices.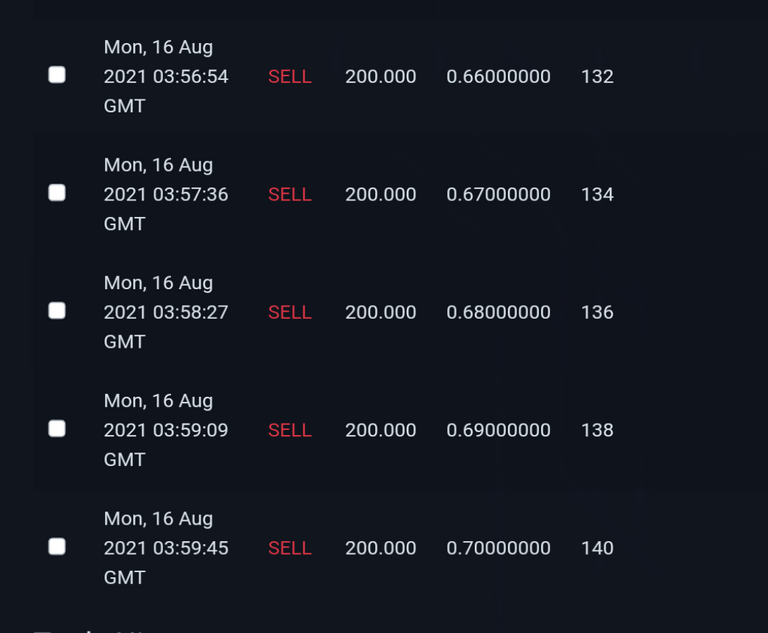 The above Sell Orders will be placed until the end of August.
At the end of August, I will Power Up LEO after I canceled Sell Orders if it is unsold.
If there are LEOs that have been sold, I will buy back LEO with the HIVE I got.
What do you think of my decision now?
If LEO prices do not go up, Powering Up can be more profitable.
Yes?
Thank you for everything.
Tin Aung Soe
[Burmese]
မင်္ဂလာပါ။
မနေ့က LEO 1000 ကို ဘာလုပ်ရလျှင် ပိုကောင်းမလဲ ဟူသော Post ရေးတင်ခဲ့သည်။
မိတ်ဆွေတို့ ဆိုလျှင်ရော ဘာလုပ်မည်လဲဟု အကြံဉာဏ် တောင်းခဲ့ပါသည်။
ယနေ့တော့ ကျွန်တော် ဆုံးဖြတ်ချက်တစ်ခု ချမှတ်လိုက်သည်။
ထိုဆုံးဖြတ်ချက် အတိုင်း LEO 1000 ကို 200 စီခွဲခြား၍ 0.66 , 0.67 , 0.68 , 0.69 and 0.70 HIVE ဈေးနှုန်းများဖြင့် Sell Orders ဖွင့်ခဲ့ပါသည်။
အထက်ပါ Sell Orders ကို August လ ကုန်ဆုံးသည် အထိ ထားပါမည်။
August လ ကုန်ဆုံးလျှင် အရောင်းမထွက်သော Sell Orders များကို Cancel လုပ်ပြီး LEO Power Up ပါမည်။
ရောင်းထွက်သွားသော LEO များ ရှိပါလျှင်လည်း ရရှိသော HIVE များဖြင့် LEO ပြန်လည် ဝယ်ယူပါမည်။
ကျွန်တော်၏ ယခု ဆုံးဖြတ်ချက်ကို အဘယ်သို့ ယူဆကြပါသလဲ။
LEO ဈေးနှုန်း တက်မလာခဲ့လျှင် Powering Up တာသည် အကျိုးအမြတ် ပိုမို ရနိုင်သည်။
ဟုတ်တယ်မလား။
အရာအားလုံး အတွက် ကျေးဇူးတင်ပါသည်။
တင်အောင်စိုး