Hello .
Playing Rising Star Game has reached level 16.
I need to increase the level and the number of fans to increase the missions.
So, the other day I bought a 3cards pack with 10,000 Starbits.
These are R93 Will, i6 Mid Range Acoustic and 4I Jerome.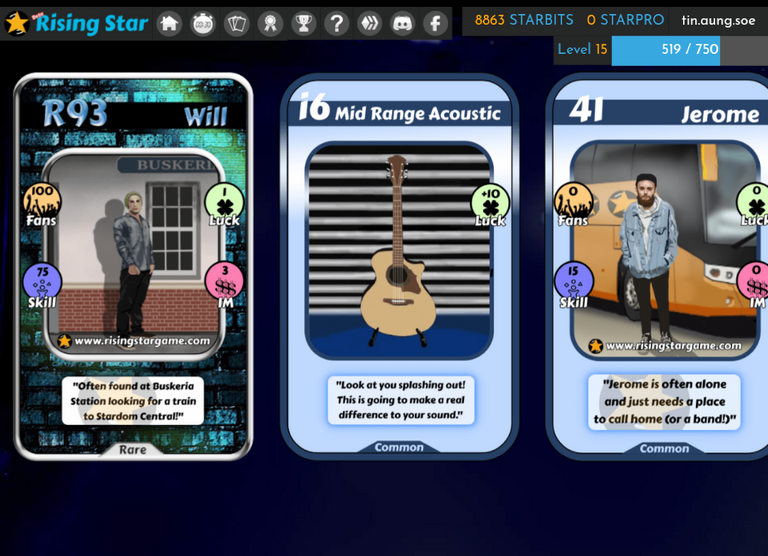 I now have a total of 17 cards in my Rising Star game.
Total Capital HIVE 10 and Starbits 30475 have been added to Rising Star Game.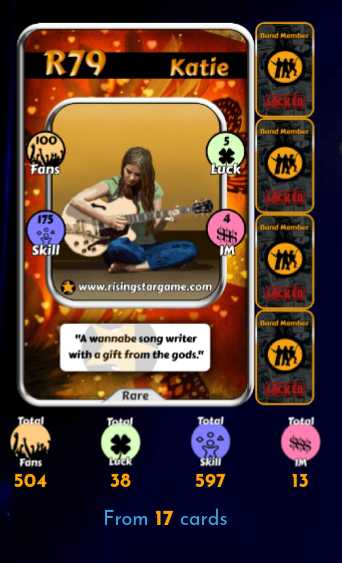 Starbits 10966 is now received as Mission Reward.
Saturday Support Mission is currently underway in Home Town.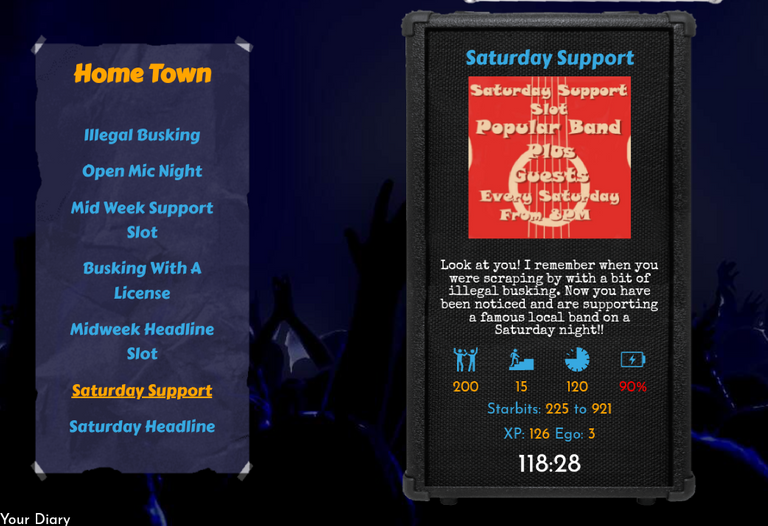 Saturday Support Mission requires 200 Fans, Level 15, Time 120 minutes and 90% Energy.
The most important thing to do missions is energy.
I still need to study the requirements to get energy fast.
Please share your Rising Star experience.
Thank you for everything.
Tin Aung Soe
[Burmese]
မင်္ဂလာပါ ။
Rising Star Game ကစားနေတာ level 16 ရောက်ခဲ့ပါပြီ။
Mission များကို တိုးမြှင့်ကစားနိုင်ရန် level and fan အရေအတွက် တိုးမြင့်ရန် လိုအပ်ပါသည်။
သို့ဖြစ်၍ အရင်နေ့က Starbits 10000 ဖြင့် 3cards pack တစ်ခု ဝယ်ယူခဲ့ပါသည်။
၎င်းတို့မှာ R93 Will , i6 Mid Range Acoustic and 4I Jerome တို့ ဖြစ်ကြသည်။
ယခု ကျွန်တော်၏ Rising Star Game ထဲမှာ Card စုစုပေါင်း 17 cards ရှိပါပြီ။
Rising Star Game ထဲသို့ Total Capital HIVE 10 and Starbits 30475 ထည့်ဝင်ပြီးပါပြီ။
Mission Reward အဖြစ် Starbits 10966 ရရှိနေပါပြီ။
ယခုအခါ Home Town မှာ Saturday Support Mission ကို လုပ်ဆောင်နေပါသည်။
Saturday Support Mission အတွက် Fans 200 , Level 15 , Time 120 minutes and Energy 90% လိုအပ်ပါသည်။
Missions များ လုပ်ဆောင်ဖို့ အဓိက များများ လိုအပ်နေသည်မှာ Energy ပင် ဖြစ်သည်။
Energy မြန်မြန် ပြည့်စေရန် လိုအပ်ချက်များကို လေ့လာပြီး လုပ်ဆောင်ရပေဦးမည်။
မိတ်ဆွေတို့၏ Rising Star အတွေ့အကြုံကို မျှဝေပေးကြပါဦး။
အရာအားလုံး အတွက် ကျေးဇူးတင်ပါသည်။
တင်အောင်စိုး