Hello
Today, I will post some pictures of Mount Popa and monkeys.
Do not assume that I am reaching Popa because you can see the image of Popa.
These are old pictures.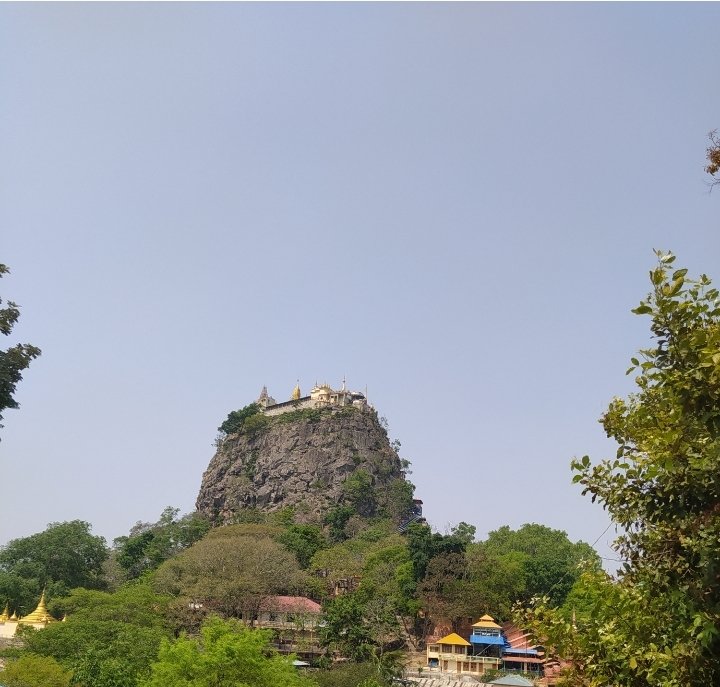 Mount Popa is located in the hot and dry region of central Myanmar, but it is a cool place.
This is because Mount Popa is an old volcano erupting in the plains, and Mount Popa is still densely populated with trees.
We, the people of Myanmar, often visit Mount Popa.
A visit to Mount Popa is famous for its deity worship.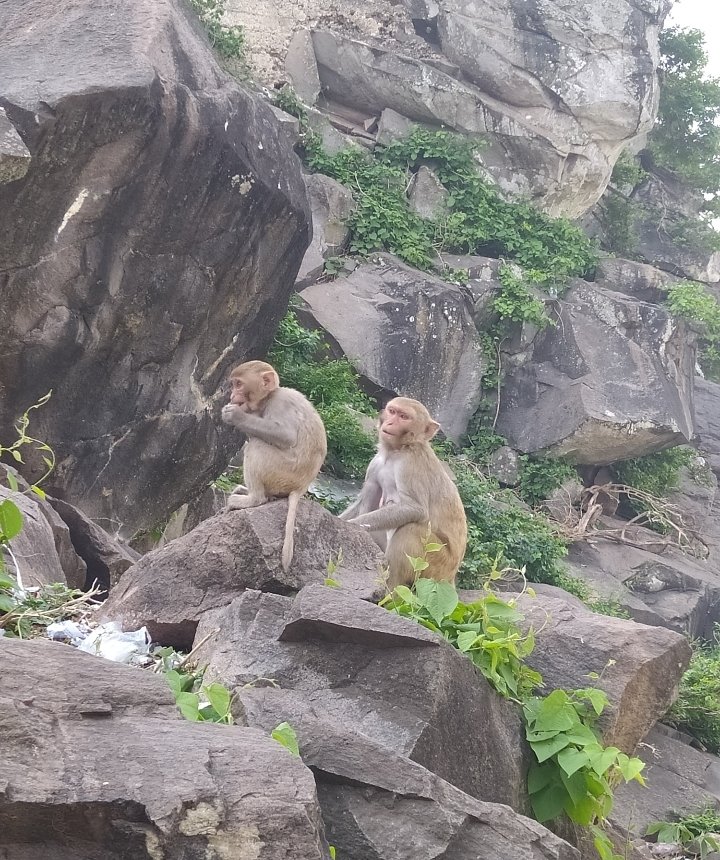 There are many monkeys on Mount Popa.
Monkeys are not afraid of people because tourists often feed them.
As a result, some monkeys snatch food from humans.
Remembering the subject from my previous visit to Mount Popa, I mentioned a few things about Mount Popa and the monkeys.
Burmese Language,
မင်္ဂလာပါ
ဒီနေ့တော့ ပုပ္ပါးတောင်တော် နှင့် မျောက်များ ပုံလေးတွေ post ပါဦးမယ်။
ပုပ္ပါးတောင်ပုံ မြင်ရလို့ ကျွန်တော် ပုပ္ပါး ရောက်နေတယ် မထင်ကြပါနဲ့။
ဒါက ပုံဟောင်းလေးတွေပါ။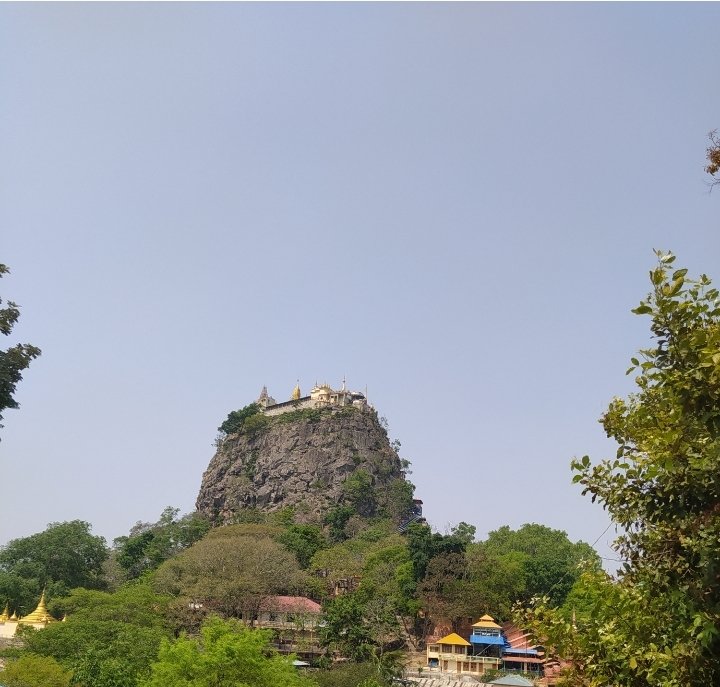 ပုပ္ပါးတောင် သည် မြန်မာနိုင်ငံအလယ်ပိုင်း ပူပြင်းခြောက်သွေ့သောဒေသမှာ တည်ရှိပေမယ့် အေးမြသာယာသော နေရာတစ်ခုပါ။
ဒါကတော့ ပုပ္ပါးတောင်သည် မြေပြန့်ဒေသမှာ ထိုးထွက်နေသော မီးတောင်ဟောင်း တစ်ခု ဖြစ်သလို ပုပ္ပါးတောင်မကြီး၏ သစ်ပင်များ ထူထပ်စွာ ရှိနေသေးခြင်းကြောင့် အေးမြသာယာမှုကို ရစေတာ ဖြစ်ပါမည်။
ကျွန်တော်တို့ မြန်မာနိုင်ငံသားများသည် ပုပ္ပါးတောင်တော် သို့ အလည်အပတ်ခရီး သွားကြလေ့ရှိပါသည်။
ပုပ္ပါးတောင် သို့ အလည်အပတ်ခရီး သွားကြခြင်းသည် နတ်ကိုးကွယ်မှုနှင့် ဆပ်စပ်ပြီး ထင်ရှားကျော်ကြားပါသည်။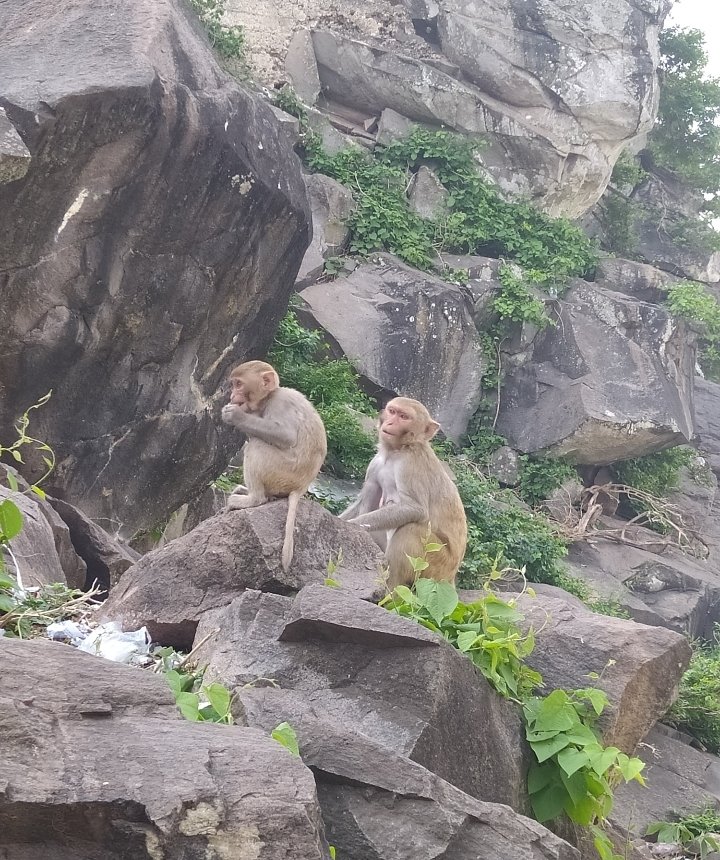 ပုပ္ပါးတောင် ၌ မျောက်များ ပေါများစွာ ရှိကြပါသည်။
ခရီးသွားဧည့်သည်များက မျောက်များ ကို အစာကျွေးကြလေ့ရှိသောကြောင့် မျောက်များသည် လူတွေကို မ‌ကြောက်ကြပါ။
သို့ဖြစ်၍ အချို့ မျောက်များသည် လူတွေဆီမှ စားစရာများကို လုယူကြသည်လည်း ရှိပါသည်။
ကျွန်တော်သည် ယခင် ပုပ္ပါးတောင် ရောက်ခဲ့စဉ်က အကြောင်းအရာကို သတိရစွာဖြင့် ပုပ္ပါးတောင် နှင့် မျောက်များ အကြောင်း အနည်းငယ်ကို ဖော်ပြလိုက်ရခြင်း ဖြစ်သည်။
ရွှေအနာဂတ်